Social Events
Sightseeing Tour
Thursday, 17th of April 2014, 13.30 – 20.30
Meeting Point: 13.30 at the university
Return: 20.30 hotel
Our tour takes us to…
… Sangeh Monkey Forest
… Taman Ayun Mengwi Royal Family Temple
… sunset and dinner at Tanah Lot Temple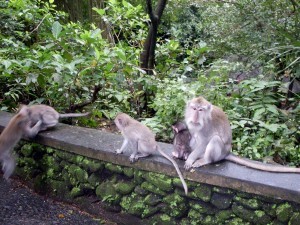 A number of temples in Bali are well known for being the residences of monkey population. Name one is the monkey forest in Sangeh Village , 21 KM away from Denpasar. The resident monkeys are told to be the guardians of Pura Bukit Sari.
Sangeh is the village whose northern part covers about 14 hectares of a holy homogen forest of "Pala" trees with hundreds of monkey in habitants. The legendary story behind the creation of Sangeh Monkey Forest is very much related to the famous battle of Hanuman, a monkey king and general of holy Rama, and Rawana, the king of wicked giants.
" Taman Ayun " means beautiful garden, located in the village of  Mengwi, 18 km west of Denpasar, is indeed one of Bali's most picturesque temples.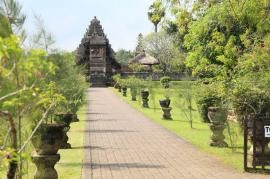 The King of Mengwi, I Gusti Agung Anom, built its stately proportioned courtyards and large surrounding moat in the year 1634. Containing both the Royal family ancestral shrines and the storied Meru Shrines to the major deities, Taman Ayun became the main temple for the ancient kingdom of Mengwi.
The huge state temple of Pura Taman Ayun surrounded by a wide moat was the main temple of Mengwi kingdom, which survived until 1891 when it was conquered by the neighboring
kingdoms of Tabanan and Badung. The temple was originally built in 1634 and extensively renovated in 1937. It's very large and spacious, and the elegant moat is an unusual feature. The first courtyard is a large, open grassy expanse and the inner courtyard has a multitude of Merus (multi-tiered shrines).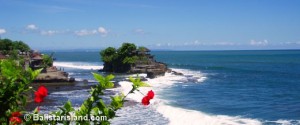 Tanah Lot Temple is located in coastal side of Beraban countryside, Kediri sub district and Tabanan Regency. It is situated in 30 Km in west side of Denpasar town and about 11 Km in south side of Tabanan town. The temple is built on the rock with 3 acre size and reachable in a few minute by walk, because it is just 20 meters from the coastal lip. This temple is very famous with spectacular view of sunset. At some nooks of coral reef around Tanah Lot Temple there are holy tame snake in black and white color where according to the local society believe that it as a deity property and as the guard of the temple from the bad influence.